Great Wireless IR Extender
For those needing to send IR where a wire won't go, I've been using the BAFX Wireless IR Repeater Kit (Amazon link) with the NEEO.
I needed to add IR control to my projector which hangs from the ceiling at the back of the room and there was no easy way to run a wire. Works great.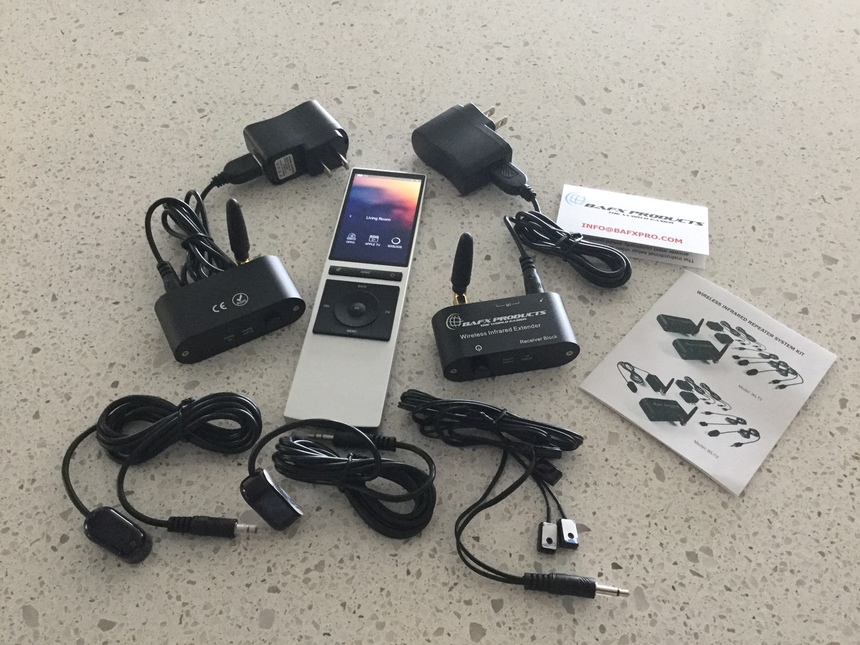 Hi Jon Iverson

I was going to make my own post about this, but I guess you came up with the solution I need -- I think.

See attached picture.

I have a Stereo system that is around the corner of a different room, away from my home entertainment system controlled by my NEEO Remote/Brain.

Because the stereo is technically in a different room, I can't use NEEO to control it.

If I were to connect an IR extender to the stereo, and place the IR sensor on the "green X" in the picture towards the ceiling, do you think the BRAIN would be able to control the stereo systems from my couch?

This would be awesome if you think it could!

Maybe Andy could give his feedback too...

Thanks guys!

Jon Iverson

said:
BAFX Wireless IR Repeater Kit (Amazon link)

In case this is helpful to helps anyone:

I learned, after a lot of testing, that the IR Receiver cable on the far end (that is, on the block with the emitter cable on it) can cause failure very easily. If that IR Receiver cable is placed anywhere where the emitter cable can even vaguely bounce IR into it, then it will fail. I don't have the option of putting the IR Receiver cable outside the cabinet, so I simply disconnected it and suddenly everything works much better.
I did try to connect a stereo headphone cable from the NEEO emitter port to the near end (that is, the block without the emitter cable) receiver port. I'd have loved it if it were a cable connection from NEEO to BAFX. Nope, I didn't get it to work. (Didn't fry anything either though. 😜)