Release Notes "L'infini" (Release 0.50.5)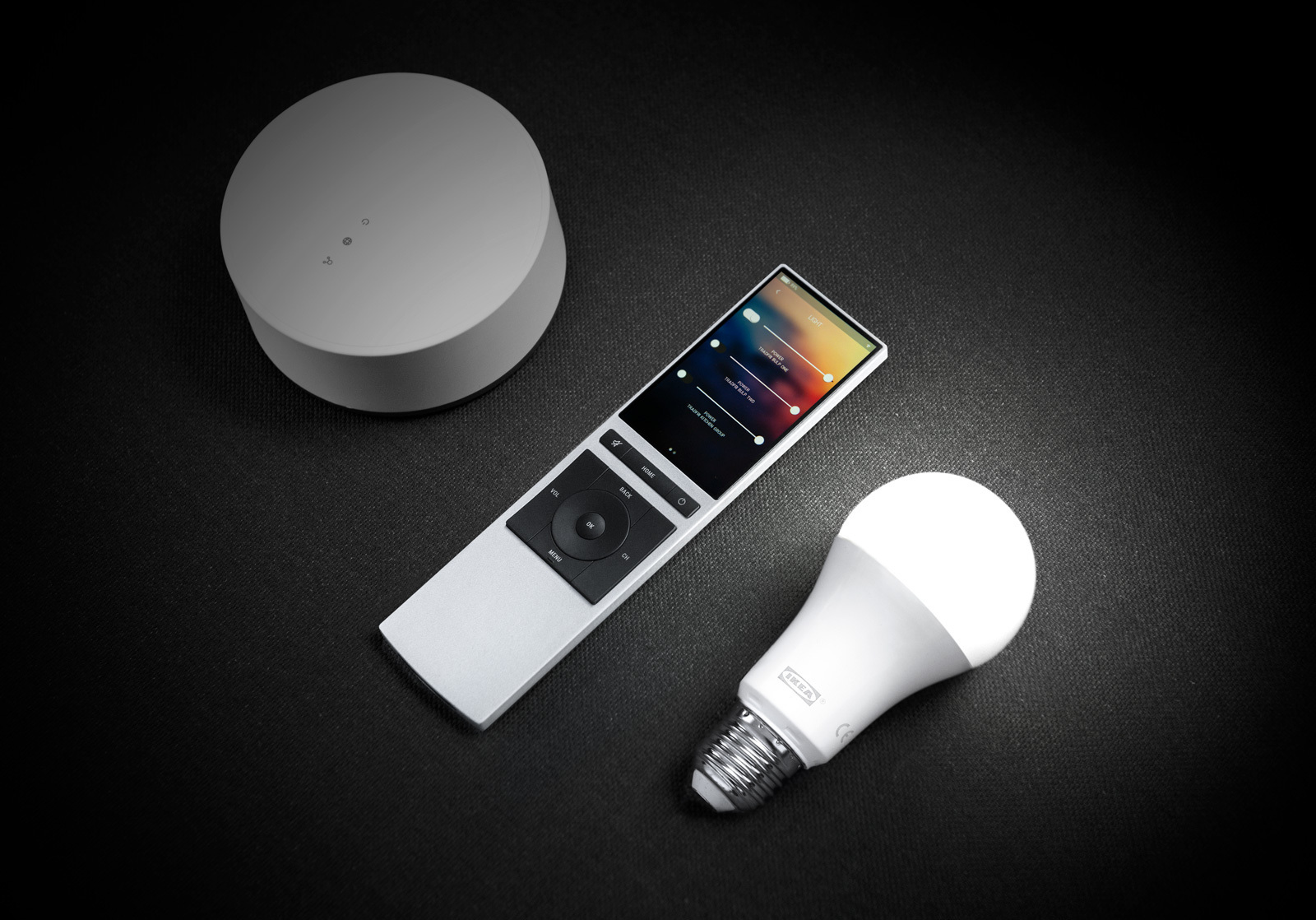 Friends,
I am honestly enthusiastic about being able to announce the next firmware release today! Everybody here at NEEO is working hard to achieve our goal of even more frequent firmware releases.
In order to get it onto your NEEO quickly, make sure to check out the "How to update your NEEO" section below.
With the slide customization options we have released in 0.49.10, the shortcuts have become a much more important feature. During the last two weeks, we have therefore been working on the look of the shortcuts and widgets. In fact, there were so many changes in relation to the shortcuts and widgets that I decided not to list them all in the release notes below. As you all know, the devil is in the details. That means we are not stopping here, further improvements and features will be added to the shortcuts.
Among all the features in today's update there is one that truly stands out. Raphael wrote a blog post about a major device we officially start supporting today:
There is a ton of other stuff in today's release. An example: A "clear" button for the Sonos queue on the NEEO Remote and App, you can now enable automatic firmware updates on the NEEO Brain, improved backup handling, further performance improvements and of course we fixed a big number of bugs. Make sure to check out the detailed release notes below to get the detailed changes.
Also, check out the Known Issues for this release.
How to update your NEEO
Once the update is available it will show up in your NEEO App as well as on the NEEO Remote in the top right corner with a red dot with an exclamation mark. All you have to do is opening the NEEO App and then follow this red exclamation mark, you'll then be guided through the process. We have also prepared a little guide.
The firmware release is not published at the very same moment in all regions, so be aware that it may take up to 24 hours until your NEEO Brain shows the update, so give it some time.
NEEO Apps
We have released new versions for Android as well as iOS during the last days. For Android this mainly improves the NEEO Brain discovery, for iOS this mainly includes changes for the iPhone X.
To get the best experience, make sure you update these on your mobile devices.
Release Notes
Release Version NEEO Brain: 0.50.5
Release Version NEEO Remote: 0.50.5
NEEO Brain
Improved firmware upgrade handling for slow and interrupted download errors
Added support for automatic NEEO Brain firmware update
Project backups are now evenly spaced in time. The NEEO Brain will keep the most recent backups within the last hour, the last day, the last week, the last month and since the first start (maximum of 5 backups)
Devices flagged as "noInputCommandsNeeded" in the database now skip wiring and will not display non-automatable slide in manual mode (unless also power stupid)
Added IKEA Trådfri support
Fixed part of inconsistencies in forward events function (to be continued)
Sonos Player now closes when swiping down
Sonos Player has a centered "close" button again
Sonos Player has improved initial loading speed
Device icons are now displayed when adding a recipe step
The "NEEO Brain Firmware Upgrading" screen is now always shown in App if it is updating (for example when triggered through NEEO Remote)
Fixed "edit rooms" screen showing wrong icons
Fixed back button disabled after restoring a backup
Fixed recipe step view to make sure "Current Value" is not shown if not defined (i.e. Z-Wave Scene Controllers)
Fixed recipe step view to make sure "Current Value" is shown correctly if value is 0
Updated icon font, upgrade icon now uses clockwise arrows
Sonos Queue Buttons layout now looks the same as on NEEO Remote
General Sonos layout now looks the same as on NEEO Remote
Added Clear button to the Sonos Queue
Added optional MENU HOME widget button to control pad slide (xbox, ps4, firetv, ...)
Added optional widgets for EJECT or OPEN/CLOSE to the scan and search slides
Added Spotify icons to Featured, Genres, New Releases, Your Music, Playlists, Songs, Albums
NEEO App and NEEO Remote now both show the same room icons
Added new standard shortcut icon
Implemented GDPR Screen
Improved LIFX Discovery
Implemented better support for devices which have no need for an input command
Fixed Shortcut type text disappearing when sorting shortcuts
Adjusted Vertical Padding in the Mobile App
Changed Tuner Device standard icon
Improved look of sliders and switches
Fixed rare case where password reset email was not sent
NEEO Remote
Unified shortcut icons to look the same on NEEO Remote and NEEO App
Added new default shortcut icon
Firmware upgrade (for the NEEO Brain and Remote) can now be triggered with the NEEO Remote
Fixed charging icon, when pressing any key when remote is on the dock will now show the charging screen
Failed to pair with NEEO Brain screen improvements
Hard Buttons are now remapped automatically to the first active recipe after rebooting the NEEO Remote
Improved Sonos Queue track animation to prevent wrong mapped active track icon
Made Firmware update screens more user-friendly
Updated icon font
NEEO SDK
Z-Wave
Added requested devices
Device ID is now shown in "Unavailable Devices"
Renamed 'Unknown' to 'Z-Wave Device'
Fixed "fishy" error when Z-Wave failed to get parameters from devices
Z-Wave 'Set Parameter' button is now disabled when form input is invalid
Fixed bug where it could happen that the "Back" button is not enabled after Z-Wave exclusion failed
Looking forward to your thoughts,
Patrick
Thanks for the increased rate of updates. Can you guys focus on Z-wave quality? things like - re-scan for devices would be great... right now, if a device is not found during initial scan, it just sits there as unavailable (maybe needs waking up... is what it says). If those devices are "played with" while discovery is going, they add-in, but otherwise, just sit there on the unfound list. Second and critical Z-wave thing that is STILL not there - thermostat control. Why? Adding a thermostat as a device is pointless as there are still no controls. C'mon guys - this was in from day one and still not working.

Am curious though about how persistent the WiFi is on the remote. Does it go to sleep like Android 6 and above? I think I may be able to test it using Node-RED! I would like to revisit my small but awesome project using indoor positioning : https://www.internalpositioning.com/ . ====> Have Kodi turn off in Living room and another turn on in the bedroom automatically. How? I run different automation servers.

Two steps forward, one back, I'm afraid. I like the new non-ugly button icons. And three across beats two across. But now only four rows instead of 5? That's a big loss. (If the vertical scrolling idea is implemented, it won't be as bad.)

In this 4x3 world (as compared to the 5x2 world), some widgets lose their utility. Having widgets with three buttons was a way to improve on the old two buttons per row, and besides, the widget buttons are prettier. But now the advantage of a three-button widget over three individual buttons is lost (except for the aesthetics). But worse, there are lots of two-button widgets. Now that there are only four rows, these widgets take up proportionately more screen real estate. I'd still like to be able to have five three-button widgets on one page, but right now the available widgets for the device I most need this for are just inadequate.

All this makes my request for more and better widgets even more relevant now. https://planet.neeo.com/t/y7jwv9/more-and-better-dvr-widgets

What's the deal with NeeoLink setting now defaulting to off, and only suggested to turn on if WiFi use has problems? I thought NeeoLink was there so the Remote could instantly communicate with the Brain without having to go through WiFi. Shouldn't NeeoLink normally be the optimal way to communicate?

Patrick

said:
Fixed charging icon, when pressing any key when remote is on the dock will now show the charging screen


Am I under the impression that you can now no longer use the remote while it's docked? If so, this is disappointing. I have my Neeo remote dock on my work desk and use it to control my music. There's no need to be wasting battery resources (nor have it undocked) for simple music control. I wake it up with a button press, scroll through the list, tap on a song and it plays, the remote falls back asleep. Is this still possible with this update?